We know sustainability is not only important from an environmental perspective, but also from the social perspective. 
 
Therefore, at Ecoembes we are sensitised to the difficulties that vulnerable people go through on a daily basis. The following projects arise from our willingness to improve the lives of all of them, through the care for the environment and recycling. 
Taking the Orquesta de instrumentos reciclados de Cateura (Cateura's recycled instruments Orchestra, Paraguay) as an inspiration, in January 2014 we set into motion this pioneering initiative in Spain, seeking to help children at risk of social exclusion through musical training. 
 
The project #LaMúsicaDelReciclaje does not only promote small musicians acquiring fundamental knowledge and values, but also instils in them the importance of recycling when caring for the environment. They even learn how to build their own recycled instruments! 
 
Find out about it in the project's documentary #LaMúsicaDelReciclaje. 
Terceros en
edad

, primeros en reciclar
Elderly people are essential to our society, as is their involvement in the care for the environment. 
 
That is why we created "Terceros en edad, primeros en reciclar". This project is specially aimed at our elderly people, driving them to recycle more and better, through leisure activities, trips to natural spaces and many more shared experiences. 
 
These are the 3 project lines, where elderly people are at the core. 
Crafts with recycled materials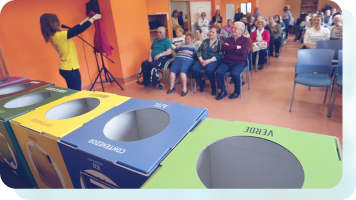 Learning
Games and educational activities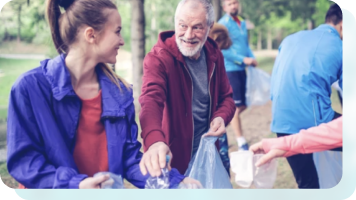 Sharing
Trips, visits and volunteering 
You may also
be interested in

Environmental projects
We fight against Littered nature and clean the sea beds, among many other initiatives. 

Innovation projects
Discover how we innovate in terms of recycling and circular economy.