Rubbish on the sea

, a problem deep down
Did you know that every year eight million tonnes of rubbish end up on the sea bed? Upcycling the Oceans seeks to put an end to this problem that threatens marine ecosystems and their biodiversity, collecting waste on sea beds to transform them and give them a second life. 
 
Find out about all the details of this initiative that fights for the preservation of our oceans and promotes the future of the planet. 
We joining
Ecoalf Foundation

to row together in the same direction
Upcycling the Oceans was born in September 2015 by the Ecoalf Foundation. In 2016 we joined this initiative to promote the recovery of materials such as film, steel, or aluminium, and transform them into new raw materials. 
 
Together we have reached goals like the following, but we know there is still much more to do. 

829 tonnes of waste recovered*
*Since Ecoembes joined the project in 2016. 

2,581 participant fishers

573 boats*
*Of all the arts, the majority belongs to trawl fishing.

43 ports in Galicia, Catalonia, Comunidad Valenciana, Region of Murcia and Andalusia.
What happens

with waste recovered from the sea?
Fishers place in the bins in each port the waste they recover from the sea during their working days. This waste is selected and PET plastic waste is taken to a recycler, where it is cleaned and transformed into pellet through different processes. 
 
What is the next step? Making yarn from this material, which will have first gone through different controls, ensuring it complies with the conditions required for making cloth of the same quality as those that do not include recycled materials. 
 
The remaining waste is selected and sent to the corresponding recycling channels, giving it a second life.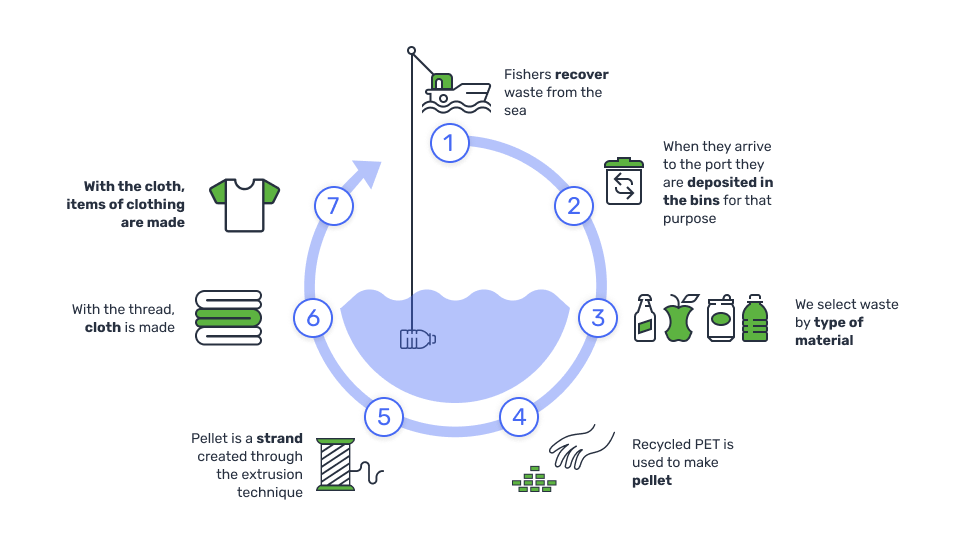 Map of the
ports

that make it possible
Upcycling the Oceans is a reality thanks to the fishers that leave the materials in the bins in these ports